BIG 💣 changes in this update
This update comes with important changes that will improve your productivity and open your 👀 to new business opportunitiesFirst of all, let me tell you a bit about the smaller changes in this version, which are also important:
fixed login in Lovense extension

fixed a latency issue with spying microphone (hopefully).

on Chaturbate. Since 19th october, it started happening that one model was streaming from other model's streaming-key and vice-versa. This happened to me and also to models in other studios, and accounts where banned. I've reported the issue to Chaturbate, even to Shirley, but it will take ages till they will take me seriously. So I've implemented

automatic reset of streaming token

, every time the model goes online, to always ensure a fresh token used for that streaming session.

removed webcam preview (retrieved from OBS) on XLoveCam. Despite I've made it 10fps, it still confuses camgirls and value/productivity was affected as it seems.

staff persons will be able to open as many accounts in the same browser, without needing to logout from previous accounts:


tab

coloring

and

grouping

. The camsites opened will now get grouped by "stagename" and this will allow for easier and better management for your trainers.

automatic earnings detection will now work even when a staff person opens and logs-in in a camsite. For example if trainer Maria will open Streamray of model Christina, earnings will be detected once the trainer loggedin in her streamray account.

 Now, about the big update

🌸 Creator Agency functionalitiesNow you can extend your business from being only a cam-studio, to being also a
Creators Agency
.With Camerolla and our powerful app, you can now manage sexters and creators as-well.
And we've made things crazy simple
.You already know how to add Staff accounts and model accounts, no? Now a new type of account has been added to the system:
THE SEXTER
account.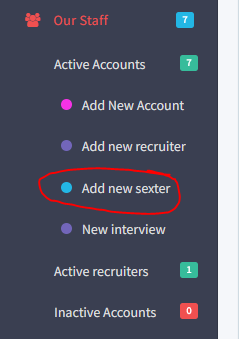 So, now you can build your own team of sexters, and here's how simple and effective we've made things:
a sexter account, will only be able to access fansite accounts. For example, if you have model MARIA who has camsite accounts but also fansite accounts, here's what happens:

a staff person will be able to see all type of accounts of this model (for example her XLoveCam account, her LiveJasmin account, but also her OnlyFans or LoyalFans accounts)


but the sexter

will only be able to see the fansite accounts (the sexter will NOT see the model's camsite accounts)

(we've made this as simple as this because you want to keep track of earnings in one place, so to avoid having a "model" account for camming, and another "model" account for fansites.


in earnings pages, a sexter will only see statistics about the fansite accounts, and never see how much money a model earns from her camsites.

Note: For the moment we only support OnlyFans and LoyalFans. We will probably add support for Fansly and other platforms, if needed. When a Sexter is using Camerolla browser, he/she will be able to open as many creator accounts as he/she wants in the same browser via
our multi-login technology
that we implemented directly in Camerolla:

Also, when a sexter authenticated to a creator's account (let's say OnlyFans), the panel is notified about this and our app will start monitoring the earnings this sexter is earning for that creator account (we will monitor exactly how much money the sexter is selling from tipping and chatting).

Later on, periodically, you will easily know how much money you have to pay your sexters, based on the percentages that you offer them, of those money earned from chatting and tipping.If you're managed to using the payments system of models, similarly you will also be able to create the payments for your Sexters, and you will know whom to pay and how much $$$. Also, like any other staff person, they will be registered with shifts internally, so you know how much time they are working, etc. Thoug, in their case, being "active" or inactive is measured by monitoring if the PC is IDLE or not.Thanks to our intelligent multi-login functionality, your sexters will easily go online on any creator account without ever knowing the creator's password. But even more, your sexters will never be allowed to navigate to "sensitive" pages such as banking, credit cards or settings: