Here's what has changed in this update.
First of all, the requirements installer
(in case it doesn't auto-update (
which can happen if OBS is opened!
), please manually run it from here
https://ro.downloads.camerolla.com/brows...1.1.39.exe
) will add 2 things:
a VirtualCam plugin compatible with OBS v28+

which is required for those that want to use OBS-Camera in apps like JasminFive - since things are not really working with OBS'es default virtual camera plugin).


A lightweight RTMP server that we discovered is very powerful and fast

and doesn't consume any CPU resources named MonaServer.
We use this RTMP server app in order to facilitate a well awaited functionality in OBS multi-rtmp.

We launched this upate to the requirements installer yesterday, so it will have time to propagate to you - the clients.Second, the well awaited functionality about MULTI-RTMP.
Quote:Story: before this update, our app used to "decide" for a given model, which will be the MAIN site for streaming in OBS. The requirement was that the model had to first stream in that website, and only after that, to stream in the other additional sites. For example, if she had chaturbate, stripchat, camsoda, bongacams... she had to first login and start broadcasting on chaturbate, and only after that, go live on any other of her 3 camsite accounts.But even more... if she had a private show for example on a non-main website and she had to stop broadcasting on main, this would have been impossible because if she stopped main site, all other sites would have also stopped working, or causing crashes on some computers (probably due to nvidia encoding i guess).
BUT FROM TODAY
, with the help of the local RTMP server i was telling you earlier, things are very simple!In OBS you will notice a new INFO in the MAIN SITE area: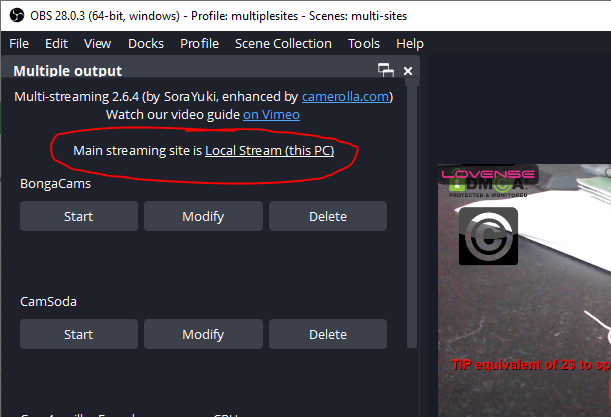 So what happens now is that your models can go online on all MULTI-RTMP camsites IN ANY ORDER they want, without issues.When you will be asked by your models about this change, please tell them that they can login in whatever order they want. But ask them never to stop streaming in OBS... as if they do that, it could cause issues with the other sites. Instead, ask them to use the STOP buttons in the multi-rtmp area.